Here are a few of my Kites. Some I have made but most I have bought.

First a bit about me. As a youngster growing up in the middle of farm country, kites were always great way to spend a warn sunny afternoon. My cousin's and I could spend hours in the wheat field flying our plastic delta's. Joining spools of cotton line to get 1000 feet. The worst was crashing in a wheat field with a thousand feet of line out.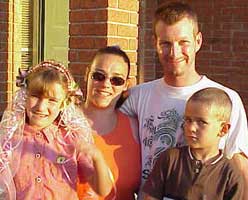 Years later with children of our own. My loving wife Barb suggested we stop by the local kite shop to get some kites for the kidds. My eyes grew wide as we walked into the show room. I have always wanted a stunt kite but was never actually thinking. Not willing to spend $150 on a kite my first time I settled for a $40 kite. This started it all for me the Gypsy by HQ kites.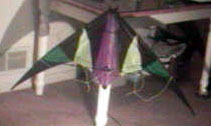 We also picked up a lady bug single line for Barb and matching Mr. and Mrs. Cow kites for Josh and Corrine. The next day with kites in arms we set out to the local school field. After getting the family's kites in the air I trundled down the field away from tree's power lines and people. Just like the manual said. After tying square knots onto the bridle I unwound the line with only about 2 feet difference in the lines. After all it can't make that much of a difference. To my dismay I crashed about every two seconds. Up then down Up then down. Frustrated we headed home. Not willing to give up as this was $40. I'm going to learn how to do this if it kills me. Off to the internet. A plethora of information showed up. The next time out insuring the lines were equal and figuring out a larks head knot I hooted gleefully. I was doing dives and swoops. It's really quite strange to see a 28 year old 6 foot 4 grown man hooting as his kite gracefully flies thru the air. That was it I'm hooked.
Here we are two years later and my kite collection keeps growing. I've infected neighbors and relatives. I've met a lot of new friends. Plus last summer I actually had a tan. I found kites to be a great stress relief. I use my time wisely. Always ensuring there is room to fly when I take the kidds to the play park.
Anyways on to my kites.
Kites I have made.
Hyida Raven 3' Rokkaku. The sail is small making the kite somewhat unstable. I used Fiberglass Rods and Taffeta Nylon. Taffeta is cheaper and more readily available but also stretchy for kites. I add a drouge and it gives this one a neat swaying motion while flying.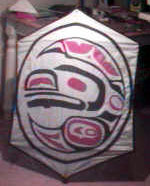 5 Foot Spiderman Rokkaku. I haven't gotten permission from Stan Lee yet to fly this one so SHHH. Perhaps this one may see a Rok Battle this year.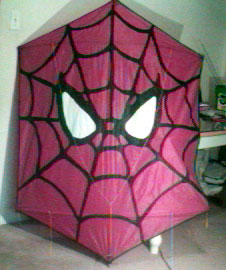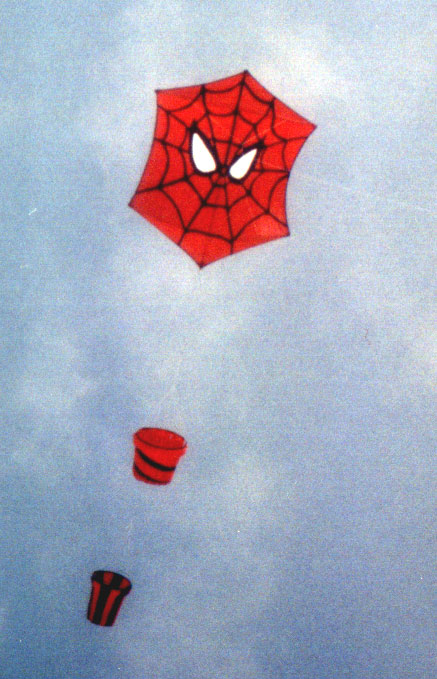 Okay I Confess. I copied the work of Ziggy from the Kitchener Waterloo Wind Climbers. My brother-in-Law bought a kite from Ziggy last summer. It was a copy of a Benson Reflex. The sail had quite a few patches and was getting near the end of it's life. SO I tried my hand at some custom graphics. I am quite impressed on how this one flies. I added an Active bridle and a different trick line. My sewing is getting better after each project. More to come I'm sure.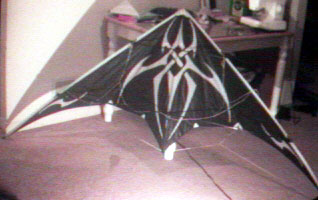 Other Kites I Own.
Freestyle Y2k by Eolo and Dodd Gross.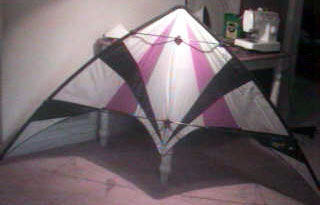 Omega XS by Sprit of Air.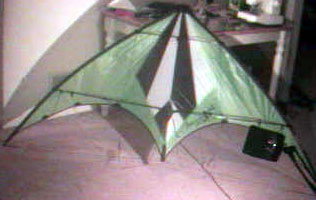 Alien by Prism.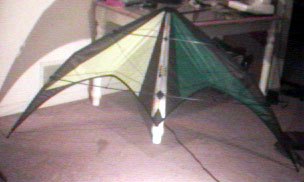 Mini Edge by Go Fly A Kite
Rainbow Diamond from Didakites.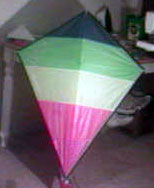 A gift from a co-worker who went to Singapore.